The Duke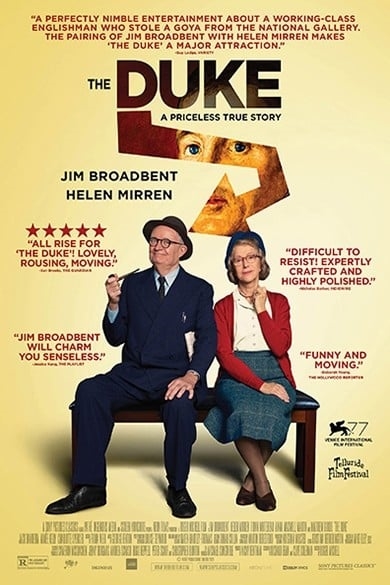 The Duke
Synopsis
THE DUKE is set in 1961 when Kempton Bunton, a 60-year old taxi driver, stole Goya's portrait of the Duke of Wellington from the National Gallery in London. It was the first (and remains the only) theft in the Gallery's history.
Details
Comedy, Drama
1h. 36min.
Opened Friday, May 6th

Director
Roger Michell
Cast
Helen Mirren, Jim Broadbent, Fionn Whitehead, Aimée Kelly, Craig Conway
Advisory
Rated R for language and brief sexuality.
Showtimes
Filter:
2D
3D
IMAX
IMAX 3D
35mm
70mm
HFR
Virtual